Plastic, wood, bones, electronics

Studio team: Taxiarchis Balaskas, Barry Llewellyn, Leo Maher, Foivos Petropoulos, Jason Lambridis
Material culture has always been the barometer of prosperity in human history. Through a process that is rarely conscious and we might not fully understand, the objects that surround us record and transfer to the future diverse information about the time and the conditions they were created, the people that used them, the life they were living etc. In that sense designers today don't just design objects, they do far more than that: they design a world that is determined by these objects and a society that is determined by this world.
This project aims to mingle materiality and meaning of past, present and future civilisations.
The Altar set pictured below is displayed in the Metropolitan Museum in NY and is a set of ritual bronzes, consisting of an altar table and thirteen wine vessels that illustrates the splendour of China's Bronze Age at its peak.
During that period, some 3.500 years ago, bronze was widely used to make everything, from armour and weapons to home utensils and tools. We could say that bronze was somehow the plastic of its time. However these elaborate vessels were originally used in the offering of wine and foods to the spirits in ancestral rites, state ceremonies, and various ritual sacrifices. "The monumental design, intricate surface decoration, and refined casting attest convincingly to artistic sophistication and tech nological advancement" says MET.
The Mingling Dynasty set is the product of a concepting and making process that could be called "reverse archeology". It is made out of future fossils, the so-called "Plastiglomerate", a new type of rock that contains mixtures of sedimentary grains and other natural debris like wood or bones, that is held together by hardened molten plastic. The emergence of this new layer on the surface of the earth is being used as physical evidence of a marker horizon for an Anthropocene Epoch.
The objects composing this set are also evidence of the contemporary technological advancement imported from modern China: a set of electronic gadgets / ritualistic paraphernalia that are not meant to be buried with the dead. Quite the opposite: they are excavated for the entertainment of the living.
The
Mingling Dynasty
is where nature and material culture become one. Its where the dump and the museum become right here, when the past and the future become right now.
www.kostaslambridis.com/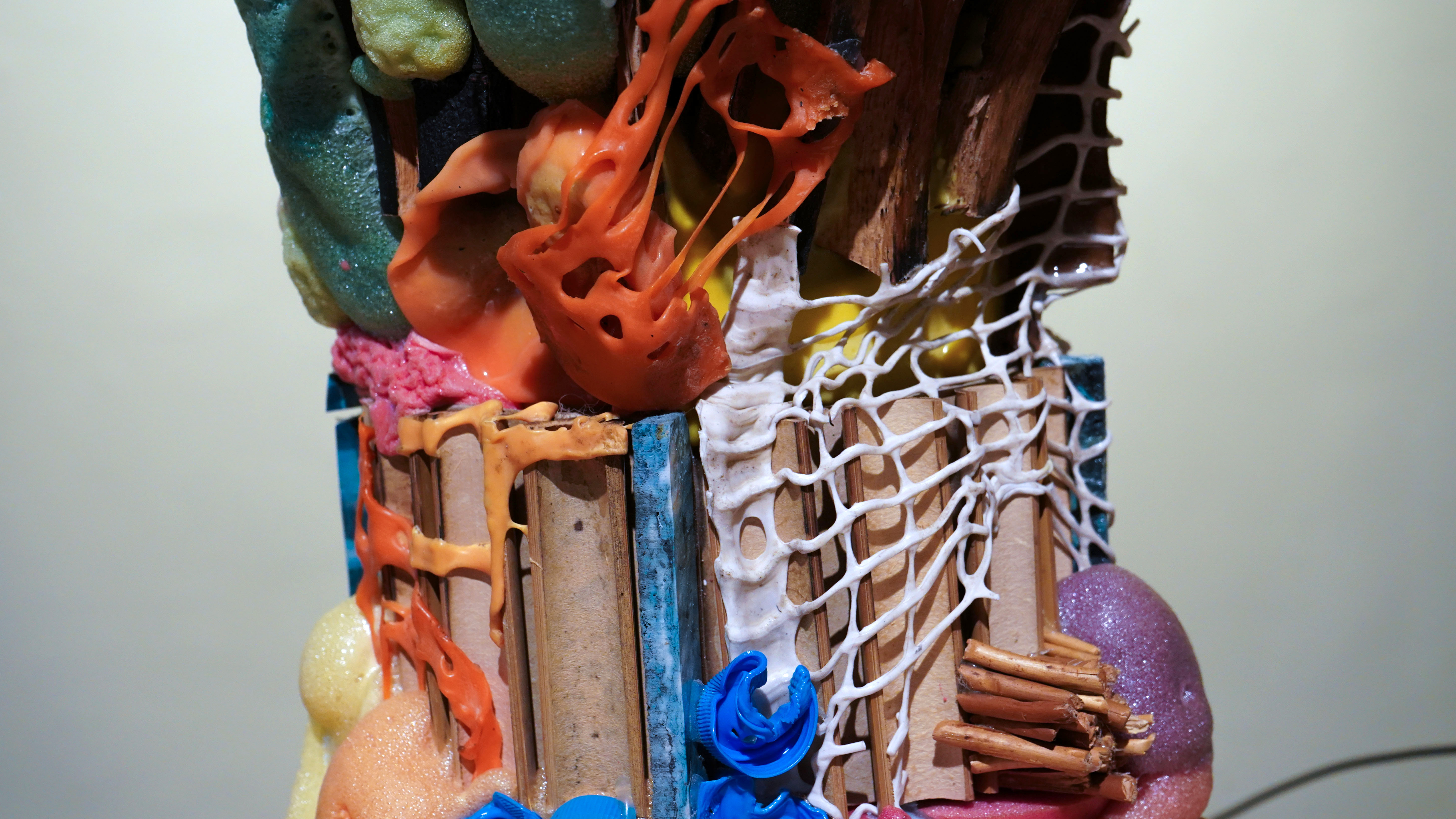 Kostas Lambridis (1988) is a Greek designer based in Athens, Greece. He started his studies on Syros island in Greece, where he obtained a diploma in Design Engineering. In 2011 he moved to Eindhoven, The Netherlands to work for Nacho Carbonell and he remained a vital member of the studio for 8 years. In the meantime he continued his studies at the "Contextual Design" master's program of the Design Academy Eindhoven and he graduated Cum Laude in 2017. His graduatio project "Elemental Cabinet" brought him international attention and he participated several group exhibitions ever since. In 2019 he was part of "Metamorphosis: Art in Europe now" at Fondatio Cartier in Paris. He is currently preparing for his debut solo exhibition in 2021 at Carpenters Workshop Gallery.
website designed by un.processed realities